Back in the day, you'd post something on your business's Facebook page and then the people that had Liked your page in the past saw it in their News Feed.  It was a pretty simple idea and a very cost-effective way to reach your audience.
As time went on and more and more people and businesses started using Facebook, and as they started to post more often, Facebook became increasingly selective in what posts actually made it to people's News Feed.
Studies have shown that businesses on Facebook actually reach only about 6% of their audience.  Why?  Facebook has said that the typical adult user has 388 Facebook Friends and that every day they login there are 1,500 individual pieces of content that are eligible to appear in their News Feed.  Of those 1,500, Facebook prioritizes approximately 300 stories and posts to appear.  That translates to 80% being filtered out by the Facebook algorithm right off the bat.
The bottom line is, it has been tough to get into the News Feed of your audience and it's time for you to expect your audience to see even FEWER of your business's Facebook posts.  Sorry.
Facebook recently released that beginning in January 2015 they will be filtering out posts that they consider promotional and that the organic reach of these posts should be expected to "fall significantly."
This announcement wasn't a huge surprise since in mid-2014 we saw Facebook quietly polling users about whether they thought certain posts "felt like ads:"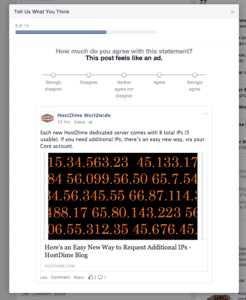 The Three New Guidelines
There are three traits Facebook has said make a post overly promotional in their eyes:
Posts that solely push people to buy a product or install an app
Posts that push people to enter promotions and sweepstakes with no real context
Posts that reuse the exact same content from ads
Examples of posts that would be considered too promotional under the new guidelines and that would be filtered out from your follower's News Feed would be: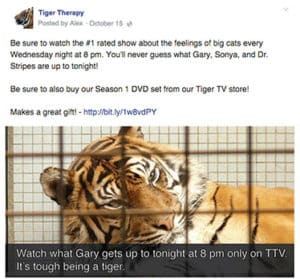 Why is Facebook making this change?
The explanation Facebook gives for making this change is basically that they are trying to improve the experience for the user by showing more of what they want to see and less of what they don't.
This is, of course, complete nonsense.
You see, the way Facebook decides what gets shown in a user's News Feed already accomplished this.  Without making the explanation of how the algorithm (known as EdgeRank) works overly complicated, what gets shown in your feed is in large part determined by the amount of "interaction" the post receives and the historical interaction between the user and the originator of the post.
Even before this updated policy, if a business posted content people demonstrated not being interested in (by lack of liking, sharing, and commenting), the algorithm would suppress it from News Feeds based on these signals.  If users don't want to see a "promotional" post, it would stand to reason that they wouldn't like it, or share it with their other Facebook friends, or comment on it, and the existing EdgeRank algorithm would begin filtering it out.  If a business regularly posted content of little interest, the user would unlike or hide the posts going forward.  If users DID interact with the content, then it must have value to the user regardless of whether it's promotional or not, and then SHOULD receive further distribution.
Then what, pray tell, could make Facebook want to filter out posts that users may have WANTED to see?  Oh yeah, money.
If you go back and read what Facebook said in their release, they did NOT say that they will no longer show promotional posts - they said they will no longer show them ORGANICALLY, which means they won't show them for free.  You will simply now need to pay for these posts to reach your audience.
Once you start paying, it's a whole new ballgame and you better know how it all works and how to run, test, and track Facebook ad campaigns effectively.  If you don't want to make learning and keeping up with all of it a part-time job, it may be a good idea to consider using Optimize Wise to manage it all for you and make sure your marketing dollars are being spent effectively and not wasted.  The alternative is to just funnel money into Facebook and "spray and pray" paid posts to your audience, taking Facebook's advice on how much you should spend to reach them.  Before you decide to go that route, you may want to consider if Facebook really has your best interests at heart when they tell you how much money they recommend you hand over to them.
Don't ever forget, Facebook is first and foremost an advertising platform with the same goal as every other public company - to make as much money for its shareholders as possible.
Like Gates - Game Over
This took effect back on November 5th, but it's new enough to make mention of.  "Like Gating" is when you request a user to Like your Facebook page in order to get access to content, contests, apps or other rewards.  Facebook will no longer permit this widely used method of growing an audience.
Here's two examples of Like Gates: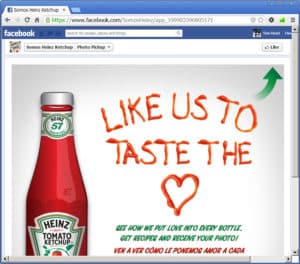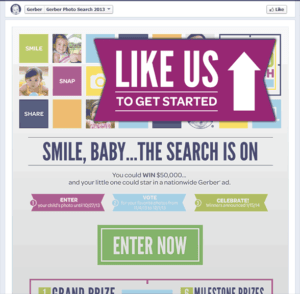 The change was part of a broader Platform Policy change within the release notes of the API v2.1 upgrade.
Facebook will still allow the creation of incentives, just not those that require a user to Like a page to gain access to content.  For example, you can still post access to special offers, contests, or content that is available only through your Facebook page, you just can no longer require that the user Like your page in order to access them.
LET'S START YOUR PROJECT!