Have you ever visited a website and suddenly started to notice ads for the product or service all over the web?  Maybe you were researching hotels for your next vacation and the following morning, when you were reading a movie review or checking the weather on your local news site, you saw a big banner advertising a special rate on the very hotel you were considering?  It's almost certain that this sounds familiar and if it does, you've experienced "retargeting" in action.  In this post we'll delve into what retargeting is, why it works, how to use it effectively, and what you can do to get started using it to grow your business - and we'll get through it all in less than 5 minutes…
What Retargeting Is and How it Works
Retargeting (also called remarketing) allows you to "follow" users that have visited your website but not made a purchase as they surf the web and to display ads to them in the hopes that they will return to your website and make a purchase.  This is made possible by installing what's known as a "cookie" in the browsers of those who visit your website.
Providers of retargeting services purchase ad space on HUGE amounts of websites across the internet, and when a user later visits a website that the provider has available ad space on, the cookie enables the ad network to know that it should display your ad.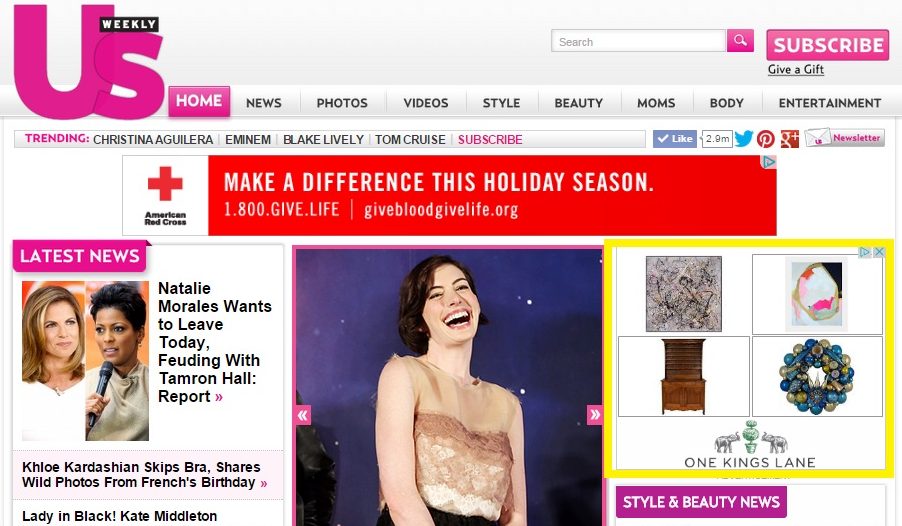 Effectiveness and Case Studies
Giving the website owner the ability to market over and over again to those users that have shown interest in what they offer makes this an exceedingly cost-effective way of increasing conversions - often dramatically so.  As an example, Yankee Candle reports that they increased conversions 600% through the use of retargeting, while online retailer Sierra Trading Post reported increasing their conversion rate by 500%.
Before we move on, pause just a second and let those results sink in and think about what it would mean to YOUR business.  That degree of conversion increase translates to a business with current revenues of $2,000 a month becoming a business grossing six figures annually and a business that currently generates revenues of $200,000 annually becoming one that produces $1 Million each year.
Customized Campaigns
Retargeting campaigns can be configured in countless ways to best meet the needs of the individual business.  You may want to set an upper limit on how many times a visitor is shown an ad or have their cookie expire after a certain number of days.  You may want to target all users that visit your site but don't make a purchase, or only to those who abandoned the checkout process or who viewed particular pages on your site.  Maybe you'll find that your best prospects are those that spent three minutes or more on your website so you only want to target visitors that meet that criteria.
This wide variety of possibilities gives retargeting enormous potential for almost any business, but it also makes correctly tracking and testing the effectiveness of the campaigns absolutely critical.
Without the right segmentation, testing and analysis, it is very easy for a business to quickly waste money on under-performing campaigns or to reach the wrong conclusion that retargeting "doesn't work for them" when in reality it would work incredibly well given the correct parameters that only testing and measurement can uncover.
Here's just a small sample of what should be considered for testing and optimization in a retargeting campaign:
Targeting visitors who remain on your website greater than X minutes
Targeting visitors who add an item to their shopping cart or begin the checkout process but don't complete their order
Cross-selling customer-related products they may be interested in based on their purchase
Number of ad impressions per visitor
Number of days to retarget each user for
Best performing ad sizes
Text ads vs. banner ads or both
Ad headlines, content, and design
Effectiveness of various promotions, coupons, or discounts offered through retargeting - based not only on WHAT the promotion is, but WHEN it is displayed to the user in relation to the start of their inclusion in the campaign (showing a 10% off coupon after 3 days and a 40% off coupon after 9 days for example)
Only targeting visitors who have shown interest in certain categories or types of products
As you can see, the level of testing and analysis retargeting demands can be considerable and requires a significant amount of expertise, but the potential for huge rewards should put it near the top of all marketing strategies to implement in your business.
---
Once you're a client of ours, getting started with retargeting is just ONE of the many things you won't need to worry about anymore - all you need to do is contact your Account Adviser and we handle the ENTIRE process for you and manage it going forward.
We design your conversion focused banner ads in all the right sizes
We install and configure all the software needed to run and track your retargeting campaigns
Our conversion and optimization experts will monitor the results, adjust accordingly, and design upcoming tests
We manage the marketing and technology that allows YOU to focus on managing your business and life!
LET'S START YOUR PROJECT!